Crafting is a great way for seniors to keep their minds active and engaged. It can also be a fun social activity, providing an opportunity to connect with others. Seniors can enjoy many crafts, from simple projects like card making to more complex ones like quilting or woodworking.
There are plenty of quick and easy craft ideas that seniors can try. For example, making greeting cards is a simple yet enjoyable way to express creativity. Seniors can also try their hand at painting, knitting, or crocheting. These activities provide a creative outlet and can result in beautiful and practical items that can be used or gifted to others.
This blog post will share some quick and easy craft ideas that seniors can try. So whether you're a seasoned crafter or just getting started, we hope you'll find something to inspire you here.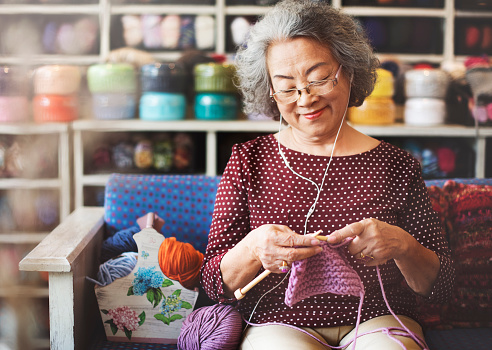 Sewing, Knitting, and Crocheting Crafts
Some ideas for easy sewing, knitting, and crocheting projects for seniors include:
Book Cover: You will need a piece of felt or another sturdy fabric, some batting or stuffing material, and a length of ribbon. Fold the fabric and sew the sides together, leaving the top open. Turn the cover right side out and stuff it with batting. Sew the top shut, decorate as desired, and use the ribbon to create a closure.
Potholder: Cut two pieces of fabric into squares or circles. Place them right sides together and sew around the edge, leaving a small opening. Turn the potholder right side out and stuff it with batting or cotton balls. Sew the opening shut and add a loop of ribbon for hanging.
Coin Purse: Cut a rectangle of fabric twice as wide as you want the finished purse and twice as long plus 1 inch. Fold the fabric in half lengthwise, wrong sides together, and sew along the long side and one short side. Turn the purse right side out and press. Sew the remaining short side shut. Decorate as desired.
Scarf: Knit or crochet a simple scarf in any colour or pattern you like. If you're new to knitting or crocheting, many easy patterns are available online or in craft store pamphlets.
CD Case: Cut two pieces of fabric into rectangles slightly larger than the CDs you want to store. Place the fabric rectangles right sides together and sew around three sides, leaving one short side open. Turn the case right side out and press. Decorate as desired, then sew the remaining short side shut.
Birthday Card: Using construction paper or other craft supplies, make a birthday card for a friend or family member. You can keep it simple with a message and a few decorations or get creative with pop-ups, 3D elements, or anything else you can think of.
These are just a few ideas of holiday crafts to get you started. You can develop many more sewing, knitting, and crocheting projects with a little imagination. So get crafting and enjoy your new creations.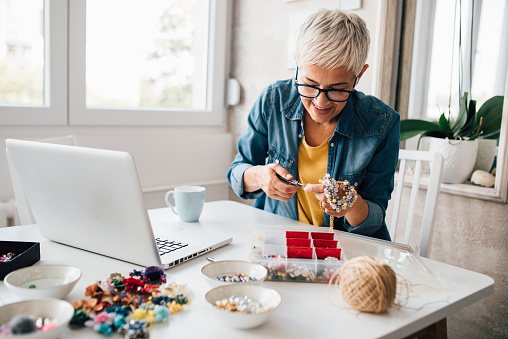 Painting and Coloring Fun Crafts
Some ideas for painting and colouring crafts for seniors include:
Painting Rocks: Collect some rocks from your yard or local park and then get creative painting. You can use acrylic paints or even just regular craft paint. Once dry, you can add a clear sealant to make them waterproof.
Painted Flower Pots: Another fun painting project is to decorate some flower pots! You can use any design or colours that you like. Add some plants or flowers once they're finished for a beautiful display.
Watercolour Painting: Watercolor painting is a great activity for seniors because it's relatively easy and doesn't require much equipment. You're good to go. Just grab a few watercolours and some paper.
Painted Mirrors: You can find small, inexpensive mirrors at most dollar stores. Decorate them with paint, beads, feathers, or anything else you can think of. These make great gifts or home decor items.
Pine Cones: Try painting or colouring some pine cones for a festive decoration. You can use any colour scheme you like, and they also make great holiday gifts.
There are endless possibilities for a fun way of seniors' crafts. Use your imagination and choose the design or colours you like best for art projects. Also, try large print coloring books and easy craft projects for senior citizens with inexpensive supplies.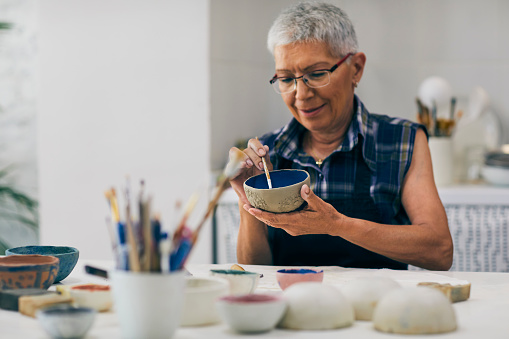 Photo Crafts
You don't have to be an artist to create beautiful photo crafts. All you need is a favourite photo, some simple supplies, and a little bit of creativity. Here are a few quick and easy ideas to get you started:
Photo Coasters: Use square tiles, corkboard, or even coasters from the dollar store as your base. Glue your photos to the center of each one, then add a layer of clear sealant to protect the surface.
Photo Magnets: Print your photos on magnet sheets (available at most office supply stores) or glue them onto thin magnets. These make great fridge decorations or can be used to hold notes on your refrigerator door.
Photo Jewelry: Print out your photos on shrink plastic (available at craft stores) and cut them into shapes. You can then use them to make pendants, earrings, or keychains.
Photo Frames: Decorate plain picture frames with your favourite photos. Glue the photos to the frame using a strong adhesive, then add embellishments like ribbon, sequins, or buttons around the edges.
Photo Albums: Create a one-of-a-kind photo album by gluing photos directly onto the pages of a blank journal or scrapbook. Designate a theme for each page, such as family members, pets, vacations, etc.
Photo Clothespins: Clip photos onto clothespins and string them up as garlands, or use them to hold notes or artwork on bulletin boards.
Photo Cards: Greeting cards are always appreciated, and you can make them even more special by adding your photos to the front. You can also use photos to make one-of-a-kind postcards.
Photo Scrapbooking: Incorporate photos into your scrapbook pages for a personal touch. Glue or tape the photos onto the page, then add decorations like paper flowers around them. It'll be a fun project and one of the easy crafts for the holiday spirit.
Photo Wall Art: Get creative and turn your photos into wall art. There are many different ways to do this, including framed prints, canvas paintings, decoupage, and more.
Photo Gifts: Photos make great gifts for any occasion. You can put them in a frame, make a collage, create a magnet, or turn them into anything else you can imagine.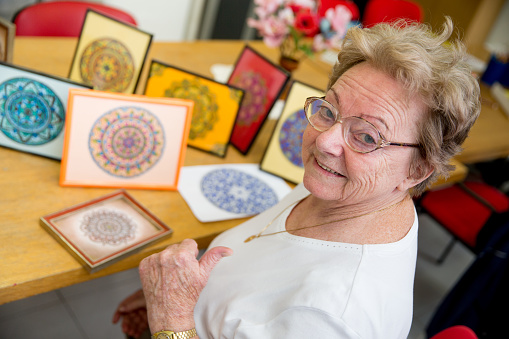 FAQs
1. Why Crafting Is Good For Seniors?
Crafting has many benefits for seniors. It can help to reduce anxiety and depression, improve cognitive function and memory, and even delay the onset of dementia. It can also be a great way to socialize and connect with other people.
2. What Kinds Of Crafts Are Best For Seniors?
Many different types of crafts are suitable for seniors. Some popular options include knitting, crochet, quilting, scrapbooking, and painting. The materials you need for crafting will depend on the project you choose. However, you may need some basic supplies: yarn, fabric, sewing machine, scissors, glue, and paint.
3. How Can I Get Started With Crafting?
If you're new to crafting, starting with a project that is not too complicated is important. Choose a project that you think you will enjoy with step-by-step instructions. Once you get the hang of crafting, you can move on to more challenging projects. Many resources are available online and in libraries to help you start crafting.
Conclusion
Crafting can be a great way for seniors to stay active and engaged. Many different types of crafts can be enjoyed, from simple projects like making greeting cards to more complex endeavours like quilting or woodworking. No matter what your interests or skill level, there is likely a craft that you will enjoy. And crafting can have some great benefits for seniors, including providing a creative outlet, promoting cognitive stimulation, and helping to relieve stress and anxiety. So if you're looking for a new hobby or activity, consider trying it.