With age, routine tasks that were once easy to do can become more difficult. This is especially true when it comes to grocery shopping. Lugging around heavy bags of groceries can be tough on bodies, and standing in long lines at the checkout can be tiring.
That's where senior shopping carts come in. These carts are designed to make grocery shopping easier for seniors by providing a seat to rest on and extra space for groceries. This guide will look at some of the best senior shopping carts on the market and provide tips on choosing the right one for you. Let's get started.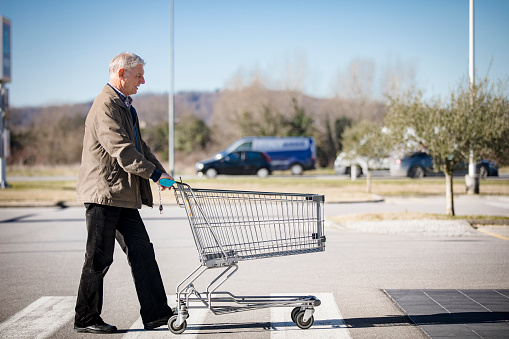 What Are Senior Shopping Carts?
Senior shopping carts are modified versions of regular grocery store carts specifically designed to be more comfortable and easier to use for seniors.
Some of the most common features you'll find on a senior shopping cart include:
Wider, padded seats that allow seniors to rest while they shop
Lower handles that are easier to reach
Brakes that can be engaged to keep the cart from rolling away
Snap-on bags that make it easy to carry groceries
Benefits Of Grocery Carts for Seniors
The following are the benefits that grocery carts offer to seniors:
1. Convenience
Grocery carts offer seniors a great deal of convenience. They can be used to transport groceries from the store to the senior's home and can also be used to carry other items such as laundry or personal belongings. Shopping carts can also store groceries in the home, saving seniors time and effort when preparing meals.
2. Mobility
Shopping carts can also provide seniors with increased mobility. For seniors who have difficulty walking, a grocery cart can be a great way to get around the store. Additionally, grocery carts can transport items from one location to another, making it easier for seniors to move around their homes.
3. Safety
Grocery carts can also offer seniors a sense of safety and security. A grocery cart can provide support and stability for seniors with difficulty walking. Additionally, they can store heavy or bulky items, preventing seniors from injuring themselves while carrying them.
4. Cost Savings
By using a grocery cart, seniors can avoid the need to hire someone to help them carry their groceries. Additionally, they can transport items from one location to another, saving seniors money on transportation costs.
5. Maneuverability
One of the best features of grocery carts is their easy maneuverability. Seniors can easily navigate obstacles and tight spaces using a grocery cart. This can be especially helpful for seniors with difficulty walking or using a wheelchair.
6. Easy to Use
Grocery carts are easy to use and require minimal effort to push or pull. This can be especially beneficial for seniors with arthritis or other conditions that make it difficult to use their hands. Additionally, grocery carts are designed to be easy to maneuver, making it simple for seniors to navigate around obstacles.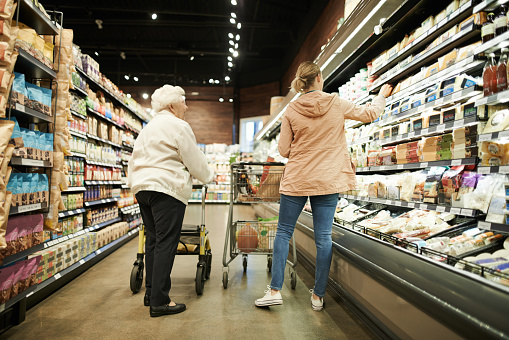 How To Choose The Best Shopping Carts For Seniors?
If you are a senior citizen or have mobility issues, using a shopping cart can make your life much easier. Many different types of carts are available on the market, so how do you know which one is right for you? Some of the things you need to consider when choosing a shopping cart for seniors include:
Size Of The Cart: You must ensure that your chosen cart is the right size for your needs. If you are only going to be using it for small errands, then a smaller cart should suffice. However, if you need to use it for larger grocery trips, you will need a bigger cart.
Weight Capacity Of The Cart: Another important consideration is the weight capacity of the cart. Make sure to choose a cart that can accommodate all of the items you need to carry.
Type Of Wheels On The Cart: The type of wheels on the cart is also important. If you are using the cart on rough terrain, you must choose a cart with off-road tires. If you are only going to be using the cart on smooth surfaces, then you can choose a cart with regular wheels.
Height Of The Handle: You also need to make sure that the handle of the cart is at a comfortable height for you. If the handle is too low, pushing the cart cannot be easy. If the handle is too high, it can be difficult to reach.
Number Of Shelves On The Cart: For seniors who need to transport large items, choosing a cart with multiple shelves is important. This way, you can easily store all of the items you need to carry.
These are just a few things to consider when choosing a shopping cart for seniors. If you take your time and choose carefully, you can find the perfect cart for your needs.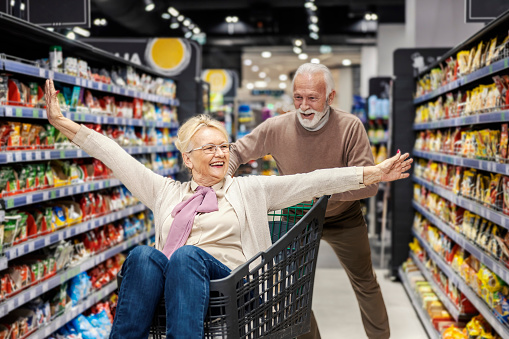 3 Best Grocery Carts for Seniors
No need to let grocery shopping become a chore – or dangerous as you age. With the help of a senior-friendly shopping cart, you can stay independent and safe while getting your groceries. Here are the three best grocery carts for seniors, based on features, durability, and customer reviews.
1. Versa-Cart Transit
With a 120-pound weight capacity, this shopping cart is perfect for seniors who need a little help getting around. The frame is alloyed steel for strength and stability, while the basket is made of water-resistant poly-blend canvas. The cart also has dual swivel wheels in front and back and a grip for each hand. Plus, it only weighs nine pounds and can be easily stored in a closet or kitchen pantry. No assembly is required, just clip on the wheels, and you're ready to go.
2. Joovy Boot Lightweight Portable Grocery Cart
Next on our list of top personal shopping carts is the Joovy Boot. Collapsible and lightweight, this cart can still pack a serious punch in carrying capacity. It can handle up to 55 pounds of cargo despite only weighing 15 pounds. The primary shopping bag is made from mesh and features carrying straps for convenience, while the lower mesh "deck" provides extra storage space.
Suppose you're looking for a few add-ons and personal items to go with your purchase. In that case, Joovy also offers a rain cover and personal organizer accessory (perfect for holding keys, a phone, and a water bottle) specifically for the Boot. Just one head up, the handle isn't adjustable on this model.
3. Goplus Foldable Shopping Cart
With a weight capacity of 88 pounds, this nine-pound folding shopping cart is perfect for seniors. The cart features oversized tri-wheels that make it easy to maneuver up and down stairs, and the front wheels lock to prevent runaway carts. The hanging lid can be easily folded for easy storage, making this a versatile and convenient option for seniors.
Conclusion
When choosing a senior shopping cart, there are many considerations. The most important thing is to find one that meets the needs of the seniors in your life. With so many different models and features available, it can be tough to decide which one is right for them. However, considering the factors and products mentioned above, you can narrow your choices and find the perfect senior shopping cart for your loved ones. With the right cart, seniors can enjoy greater independence and mobility, making life easier for everyone involved.