As people age, they may find it more difficult to get around without some assistance. This is where walkers come in, they provide support and stability for those who need a little help when walking. If you're a senior citizen in Canada, you may be wondering what the best walker is for your needs.
In this article, we'll take a look at some of the best walkers for seniors in Canada and what features they offer. Also, we'll provide a buyer's guide to help you choose the right walker for you. Let's get started.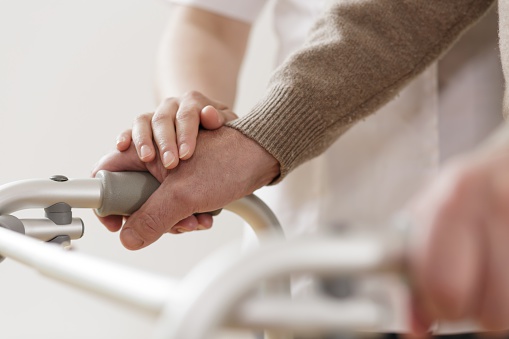 Types of Walkers
Walkers are the best option for older adults who require a little assistance. They provide necessary balance and stability while walking and moving around. However, the challenging task is to choose the right one. There are different categories of them, including standard walkers, front-wheel walkers, rollator walkers, etc. Let's discuss three types of walkers to make it easier for you to choose.
1. Standard Walkers
Standard walkers are simple frame walkers that an older person can lean on for support. It has four rubber-tipped legs for providing support and balance. Usually, they are made up of aluminum material which makes them lightweight. They are the best options for those who can't handle their weight and balance due to some injury or old age. In addition, they are only suitable for slow movement. Avoid walking with them on uneven surfaces. Also, not helpful for people lacking upper body strength.
2. Front-Wheeled Walker
Front-wheeled walkers are pretty similar to standard walkers. The only difference is it has non-swivelling wheels on the front legs. The two wheels in the front make it easy to walk on uneven surfaces. The front wheels are designed to push the forward walker than lift it. However, you won't feel much stability like the standard walker provides. You can also remove the front wheels to make it like a typical walker, but it is only possible in a few models.
3. Rollator Walker
It is a type of Rolling walker that has four or three wheels along with hand-operated brakes. It is designed for people who require little support and can manage balance. The difference between a walker and a side-fold rollator walker is that all the rollator's legs have wheels. Most rollator walkers come with a storage pouch and a few built-in seats to allow for rest breaks. It is best suited for outdoor use but usable for indoor as well. However, these walkers are heavier than traditional ones, making them harder to fold and out into a vehicle.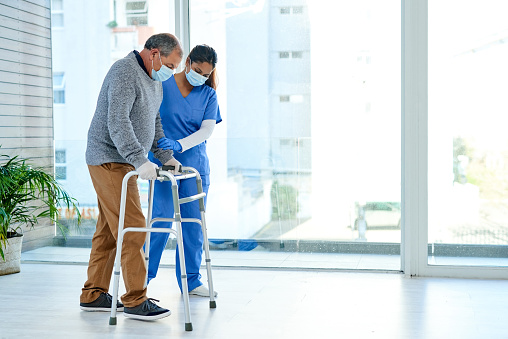 Top 5 Walkers For Seniors
Here are the best five walkers you can choose for your older loved ones.
1. Able life Spacewalker
The Able life Spacewalker is considered the best walker among narrow walkers for ageing people. An extremely lightweight walker that can manage 400 pounds weights. It can quickly move on tight passageways with its slim profile, making it suitable for travelling. You can also replace front wheels with swivel wheels for maximum manoeuvrability for both indoor and outdoor surfaces.
Pros
Easy to fold
Lightweight and easy to carry
Excellent stability
Cons
The bar across the back needs attention.
It might be challenging to handle for 6'5 feet users.
2. Drive Medical Folding Walker
The Drive Medical Folding Walker is stable and lightweight. It can fold up to half the size of other walkers for providing easy transport. It can support up to 300 pounds weight and can be adjustable according to the user's height. Also, offer a slim free grip and reduce hand soreness. Two attached pouches make it easier to carry your small items around.
Pros
Affordable yet comfortable
Comes with a pouch for storage
Cons
It might be on the heavier side.
3. Lumex UpRise Onyx Folding Walker:
The Lumex UpRise has two levels of handles that assist not only in walking but also help with sitting to standing. You can use it as a portable aid for going to the toilet. A lightweight walker that can be used for daily activities. A user can fold it with a single touch of a button. Additionally, it comes with a padded built-in seat and cushioned backrest, so you can take a break when you need to.
Pros
Much secure and stable
Lightweight
Easy to carry and fold
Cons
Need practice, otherwise, it is dangerous.
4. Medline Heavy Duty Bariatric Walker
The Medline walker is a two-wheeled basic walker that provides comfortable support to more significant adults. It has an extra-wide frame that you can adjust from 33.5 inches to 43.5 inches. It can support up to 500 pounds weight with some storage space. A two-wheeled walker can be easier to fold, and you can easily tuck it under the bed. It is an oversized walker, so it might not fit through all doorways.
Pros
Easy to fold
Extra-wide frame
Cons
It might not fit through some doors.
5. Standard EZ Fold-N-Go Walker
If you are searching for a portable yet easy walker to store, then The Standard Fold Walker is the right option to choose. It can support up to 400 pounds of users. You can easily fold it to four times shorter than the other models. With a 24 inches wide frame and a nylon pouch for storage, a smaller item is the best option. Its footprint only measures five by 7 inches.
Pros
Adjustable according to the height
Lightweight and easy to use
Cons
Some users find the wheels very loose.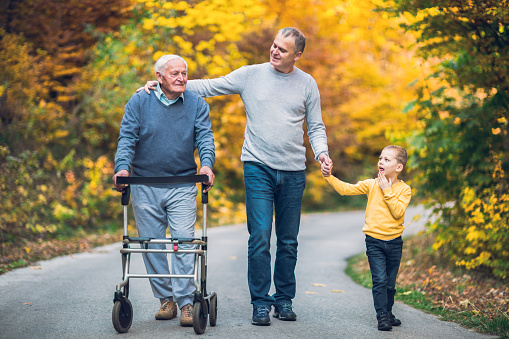 How To Choose The Right Walker For Your Needs?
There are many different types of walkers available in the market and choosing the right one for your needs can be a daunting task. Some factors you need to consider include:
Weight Capacity: Most walkers have a weight capacity of around 250 pounds. If you are obese or overweight, you may need to look for a heavy-duty walker that can accommodate your weight.
Wheels: Walkers come with either two or four wheels. Two-wheeled walkers are more maneuverable but four-wheeled models are more stable.
Features: Some features you may want to look for in a walker include brakes, folding capability, a padded seat storage bag, a memory foam seat, and adjustable handles.
Prices: Walkers range in price from around $30 to $200. Higher-end models usually have more features and are made of higher-quality materials.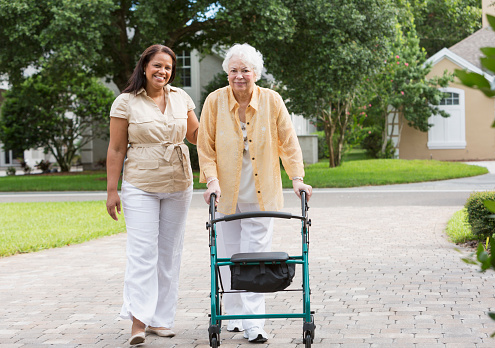 Conclusion
There are many different types of walkers on the market, so it is important to choose one that is best suited for your individual needs. If you are a senior citizen, it is important to find a walker that is comfortable and easy to use. The walkers on this list are some of the best options available for seniors in Canada. With so many different features and benefits, you are sure to find the perfect walker for your needs.
We hope you enjoyed our list of the best walkers for seniors in Canada. Do you have a favourite walker that you would recommend? Let us know in the comments below!