Having a smartwatch has become a must-have for many people. They are not only stylish but also functional, allowing you to stay connected and organized while on the go. However, if you are a senior citizen, you may wonder if a smartwatch is a right choice. After all, so many features and options are available, and it can be overwhelming to try to figure out which one is best.
Don't worry; we've got you covered. This article will introduce you to the three best smartwatches for seniors. We'll tell you what features to look for and what to avoid so that you can make an informed decision about which one is right for you.
So without further ado, let's get started.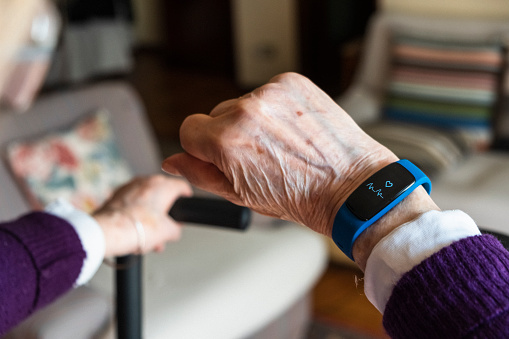 Types of Smartwatches for Seniors
There are a few different types of smartwatches that are particularly well-suited for seniors. These include health watches, GPS watches, medical alert/emergency watches, and fall detection watches.
1. Health Watches
A health watch is a type of smartwatch that is designed to track and monitor your health data. This can include things like your heart rate, steps taken, calories burned, and more. Health watches can be a great way for seniors to monitor their overall health and fitness level. Also, many health watches now come with features like automatic fall detection, which can be very helpful for seniors at risk of falling.
2. GPS Watches
GPS watches are ideal for seniors who want to stay connected and safe while out and about. These watches typically feature real-time tracking, emergency services, and route planning. GPS watches can also be great for seniors who want to keep tabs on their fitness and activity levels.
3. Medical Alert/Emergency Watches
Medical alert devices or emergency watches are designed for seniors who may need assistance in an emergency. These watches usually have two-way communication, fall detection, and GPS location tracking. Medical alert system watches can give seniors and their loved ones peace of mind knowing that help is always available if needed.
4. Fall Detection Watches
Fall detection watches are a type of smartwatch that is designed to detect when a wearer has fallen. This can be incredibly useful for seniors, as falls can often lead to serious injuries. Fall detection watches usually have automatic call alerts and GPS location tracking. This way, help can be summoned immediately if a fall is detected.
3 Best Smartwatches For Seniors
Whether you want to set up emergency alerts, stay connected with loved ones, or simply want to stay active and independent, a smartwatch can be a great addition for seniors. There are many different types and models of smartwatches on the market, and we will introduce you to three options based on wellness features, price, and user-friendliness.
1: The Apple Watch Series 6
The Apple Watch Series 5 is the latest release from Apple and includes new features like an always-on display and a built-in compass. It also has features that made previous versions popular, such as tracking fitness activity, monitoring heart rate, and receiving notifications. The Series 6 is compatible with the iPhone 6s or later, running iOS 13 or higher.
The compatibility of apps is one of the main reasons to consider this Apple device. Download Spotify, use it as a fitness tracker, and take advantage of its 100% waterproof design when swimming or spending time at the beach. With a user-friendly interface and solid battery life, this smartwatch should be high on the list for seniors.
2: The Fitbit Versa 2
The Fitbit Versa 2 is a popular smartwatch that includes many features seniors might find useful, such as GPS tracking, fitness tracking, and more. It also has a long battery life, so you won't have to worry about charging it daily.
It also has an always-on display and built-in Alexa voice control. The Versa 2 is compatible with iPhone 5s or later, running iOS 11.2 or higher and Android 6.0 or higher.
Track your sleep patterns quality of your rest, and control your Spotify playlist while you exercise with this model smartwatch. It is also user-friendly and easy to set up and use. Even if you are not good with technology, this smartwatch is perfect for seniors.
3: The Samsung Galaxy Watch Active 2
The Samsung Galaxy Watch Active 2 is a newer release with all the features that make it a great watch for seniors. It has an ECG monitor, fall detection, and GPS tracking. It also has a large display and is very lightweight. This watch is designed to be comfortable to wear, even for those with sensitive skin.
It's also waterproof, so you can use it while swimming without any worries. The battery life is impressive, too, as it can last up to five days on a single charge. This makes it a great option for seniors who want a smartwatch that they can easily use.
Choosing the Best Smartwatch for Your Senior Loved One
When choosing a smartwatch for your senior loved ones, it is important to consider their needs and preferences. Some seniors prefer a watch with more health-tracking features, while others prefer a watch with more style options.
Some factors that you should consider include:
Durability: Smartwatches can be exposed to a lot of wear and tear, so it is important to choose one durable.
Ease Of Use: seniors may not be tech-savvy, so choosing a smartwatch with an easy-to-use interface is important.
Health Tracking Features: many seniors are interested in tracking their health data, so choosing a smartwatch with robust health tracking features is important.
Style Options: some seniors prefer a more traditional watch look, while others may prefer a more modern look.
Compatibility: it is important to ensure that the smartwatch you choose is compatible with your senior loved one's smartphone.
Price: There is a wide range of prices for smartwatches, so it is important to choose one that fits your budget.
With these factors in mind, you're sure to find the perfect smartwatch for your senior loved one.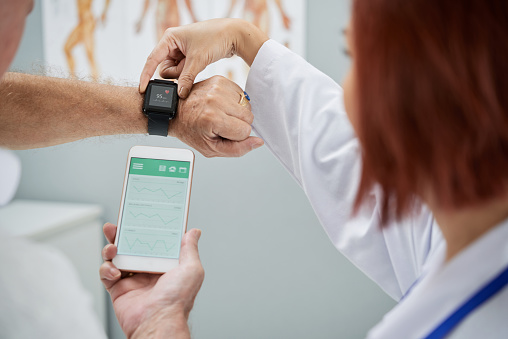 Conclusion
You have plenty of great options if you're a senior and in the market for a new smartwatch. While all three watches we've reviewed are great choices, the Apple Watch Series 6 is our top pick. It's packed with features that seniors love, like an emergency SOS button and fall detection. And it's also just a great all-around smartwatch, with a large selection of apps and a beautiful design.
So, what are you waiting for? Get out there and find the perfect smartwatch for your needs!